Welcome to IndyNMI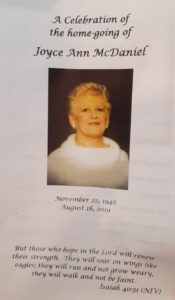 A Tribute to Joyce McDaniel
August 24, 2019
All of us who knew Joyce know she loved God, loved her family, and loved others – including those of other cultures and languages.  Her greatest desire was that everyone – family, friend or stranger, would come to know Jesus as Savior and Lord.
Joyce served faithfully many years as local NMI president and on the District NMI Council as the Northeast Zone Coordinator.  She also was a Work & Witness team member in Malawi and Native American Christian Academy in Arizona.  She personified "Work" with her readiness to work hard and do any job, and "Witness" as she eagerly shared the love of Jesus and prayed with all ages.  She didn't need to speak their language; she spoke the heart language of love.
Despite her physical battles with cancer, she never stopped believing in the goodness and faithfulness of God.  She continued to give of herself, even when she wasn't physically up to it.  She trusted God to give her the necessary strength.  She never lost the song in her heart.
We loved serving with Joyce in Nazarene Missions International.  She was dependable, thoughtful, willing to offer suggestions and committed to working together for a common goal.
On August 16, after spending the day assisting missionaries from West Africa, we had the privilege of visiting with Joyce at Springhurst in Greenfield.  She was unresponsive, and it is very possible that she did not realize we were there.  But the blessing of being with her is a memory we cherish.  As we prayed for her, Heaven came near.  The presence of Jesus permeated the room.  It was a divine moment in the meeting of time and eternity.  We left Joyce with the promise and assurance that we would see her again, perfectly healed.  In a matter of minutes, she passed through the portal of death into full, whole, eternal life.  We will miss her presence here, but we know she is celebrating wholeness in the presence of Jesus.
Joyce was a dear friend and colleague in missions for many years, and we miss her already! But we rejoice with her in her final victory and forever life with Jesus!  My life was immeasurably blessed and enriched by Joyce's presence.  The impact of her life is like a pebble dropped in a river; it goes on and even when it may not be seen, it continues to make a difference.  She made a difference in my life.
Martha Bean
If you attended the 2019 District NMI Convention, please take a couple of minutes to complete the survey below.
https://tinyurl.com/IndyNMI1819  or  https://forms.gle/9iTkSX8NrQiqfuKz6