ALABASTER!
When the work first began in Hungary, there were no church buildings.  The new Nazarenes wanted to be part of something that would immediately make them a part of the global Nazarene family.  Their first Alabaster offering exceeded US$1,000.  Within a couple of years, their own Alabaster church was built in the center of the village, like a bright yellow sunburst of hope.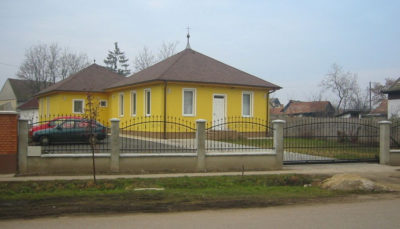 The method of receiving Alabaster offerings in your church may be different this September.  The importance of Alabaster is not the method or the form of your offering – so whether you take your Alabaster box to your church filled with coins or currency, or if you write a check or give online, your Alabaster offering still makes a tangible difference!  Your gift enables the purchase of properties and building supplies wherever the Church of the Nazarene ministers – in 163 world areas.  Thank you for your generous Alabaster offering!
THANK YOU FOR FEEDING THE BABIES!
You responded to the immediate need and challenge to provide infant formula and milk for young children in Beirut, Lebanon where one week's supply of these items costs an entire month's salary!  We partnered with Shepherd Community Center (our Nazarene Compassionate Ministries Center) and NCM Eurasia.  Thank you for filling two skids!  The formula and milk have been shipped and are on their way to these babies!  Thank you!
WHEELS 4 MISSIONS – VEHICLE FOR HERNDONS – THANK YOU, INDY DISTRICT NAZARENES!
GOAL: $15,000
DEADLINE:  July 31, 2021
AMOUNT RAISED:  ALMOST $21,000 !!!  TO GOD BE THE GLORY!!!
INDY DISTRICT NMI CONVENTION (Click Here Virtual)
Saturday, April 24, 2021
10 AM to Noon EDT
"Just Like a Good Neighbor…"   (Matthew 22:37-39
37 Jesus replied: "'Love the Lord your God with all your heart and with all your soul and with all your mind.'[a] 38 This is the first and greatest commandment. 39 And the second is like it: 'Love your neighbor as yourself.'[b]
Missionaries Josh & Shannon Herndon (Romania), Camilo & Sara Gonzalez (Equatorial Guinea), Dan Duke (Cameroon with Wycliffe Bible Translators), and others will be sharing personal and ministry experiences as they are living out these two Great Commandments from Jesus.  Learn how both global and local missions are effective in ministering to our neighbors – wherever we are in the world.  You are a part of these ministries as you pray and give.  Watch online here for your investment report!  Be inspired and challenged as we learn how to love others more effectively.
A SEASON OF HOPE
The Apostle Paul wrote, "May the God of hope fill you will all joy and peace as you trust in him, so that you may overflow with hope by the power of the Holy Spirit."  Romans 15:13
Will you share this hope that we have in Jesus Christ with others?  During this season when many feel hopeless, share the eternal hope of salvation.  Reach out to your neighbors – next door, down the street, across town and across the world.  Continue to support the World Evangelism Fund through faithful and generous giving.  https://www.nazarene.org/give
SHEPHERD COMMUNITY CENTER
YOU CAN HELP…
If you haven't donated yet, I ask that you would consider doing so. The need is great in our neighborhood. You can make a donation at Shepherd Community Donation page.
If you have things that you think Shepherd might need, please contact Steve DeBuhr or Kolton Williford.
Finally, I ask that you continue to pray for our staff and for our neighbors.
Thank you again for your partnership,
Rev. Jay Height
CRISIS CARE KITS/SCHOOL PAL-PAKS –
SEE RESOURCES PAGE