FALL HAS ARRIVED – SEPTEMBER MEANS ALABASTER!
When the work first began in Hungary, there were no church buildings.  The new Nazarenes wanted to be part of something that would immediately make them a part of the global Nazarene family.  Their first Alabaster offering exceeded US$1,000.  Within a couple of years, their own Alabaster church was built in the center of the village, like a bright yellow sunburst of hope.  Read more in Lesson 6 of this year's Adult Missions Education curriculum.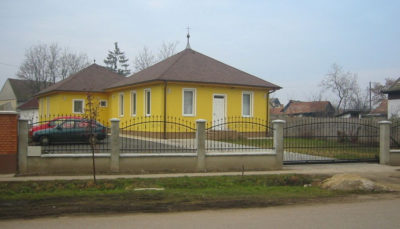 The method of receiving Alabaster offerings in your church may be different this September.  The importance of Alabaster is not the method or the form of your offering – so whether you take your Alabaster box to your church filled with coins or currency, or if you write a check or give online, your Alabaster offering still makes a tangible difference!  Your gift enables the purchase of properties and building supplies wherever the Church of the Nazarene ministers – in 163 world areas.  Thank you for your generous Alabaster offering!
CRISIS CARE KITS/SCHOOL PAL-PAKS
The contents and instructions for both CCK's and SPP's have not changed; the links below are still current.  Suggestion:  Save the CCK and SPP shopping lists in your phone.   
CRISIS CARE KITS
SCHOOL PAL-PAKS
Shopping Lists:
Crisis Care Kits:
1 bottle shampoo (12-18 oz)
2 bars soap (bath size or larger)
1 toothpaste (4.0-6.4 oz)
3 toothbrushes (in original pkg)
1 box Bandaids (30 or more)

1 fingernail clippers
1 sturdy hair comb
2 hand towels
4 pocket-size pkgs Kleenex
1 Beanie-baby size stuffed toy
School Pal-Paks:
2 composition notebooks (Mead), no larger than 9-3/4 x 7-1/2 inches
1 pkg (10-12) #2 pencils
1 pkg (10-12) ballpoint pens (black ink)
1 pkg (12-15) colored pencils (not markers)

2 pink erasers
2 rulers with metric measurements (6″ or 12″)
1 pair blunt-nosed scissors
1 hand-held pencil sharpener (non-electric, non-battery powered)
Follow instructions explicitly.  It is essential that the exact items requested – no more, no fewer, and no additional items be placed in the bags as requested.  Thanks for providing these practical items for distribution globally through Nazarene Compassionate Ministries.
Shelbyville First Church graciously serves as our district storage facility for CCK's and SPP's. Please call the church (317-398-8966) to schedule your drop-off.
VIDEO GREETINGS FROM EQUATORIAL GUINEA
Gonzalez Family
SHEPHERD COMMUNITY CENTER
YOU CAN HELP…
If you haven't donated yet, I ask that you would consider doing so. The need is great in our neighborhood. You can make a donation at Shepherd Community Donation page.
If you have things that you think Shepherd might need, please contact Steve DeBuhr or Kolton Williford.
Finally, I ask that you continue to pray for our staff and for our neighbors.
Thank you again for your partnership,
Rev. Jay Height
If you attended the 2019 District NMI Convention, please take a couple of minutes to complete the survey below.
https://tinyurl.com/IndyNMI1819  or  https://forms.gle/9iTkSX8NrQiqfuKz6