2022 DISTRICT NMI CONVENTION . . .  is history!  A new district president was elected – Mrs. Beth Spence.  More info and photos will be arriving soon, so hurry back!
WE REACHED OUR GOAL OF $15,000!!!  You are awesome, Indy District NMI!  WHEELS 4 MISSIONS –  A vehicle for the Katanga Family!
Rev. Evans & Njeri Katanga, serving in West Africa
are in dire need of a dependable used vehicle – ASAP!  We have accepted the challenge of raising $15,000 to provide this vehicle for the Katanga family, and  WE DID IT!!!
Sharing hope, transforming lives through generosity
Church of the Nazarene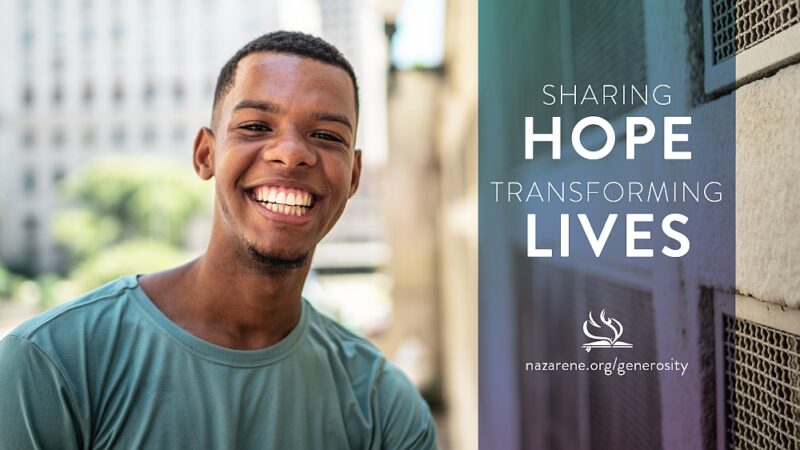 The Easter Offering for World Evangelism helps fund the Church of the Nazarene's ministry network as it mobilizes thousands of people to share Christ's transformational love each day. Every dollar helps spread the message of scriptural holiness across the street and around the globe.
Pan de Vida (Bread of Life) Church of the Nazarene in Panama City, Panama, is using soccer and cultural activities to provide wholesome recreation alternatives for the youth in their community. The church leaders hope that their work spreads from the youth into the broader community.
When you give to World Evangelism, you empower ministries like that of Pan de Vida in Panama City and many more around the world, encouraging active engagement in fulfilling the Great Commission.
By giving to World Evangelism, you are actively advancing the Church of the Nazarene's ministries around the world. Your participation through prayer and giving makes it possible for the church to fulfill God's call to make Christlike disciples of all nations.
Promotional materials for this year's offering are now available on the offering website at nazarene.org/generosity.
BREAKING NEWS!
THE GONZALEZ FAMILY . . .

Camilo, Sara, Landon, Kyle & Adriana, members of the Indy District (Shelbyville First), have accepted a new Global Missions assignment and have transferred from the Africa Region to the Eurasia Region to serve in Church Development in the country of Luxembourg! As you most likely know, a new assignment and move to a new country of service will require updated documents and visas. They are currently stateside in this process.
Sara states, "We are very excited to see what God has planned for us in our new assignment, as the work of the church is young there! Luxembourg is a small country bordered by Belgium, France, and Germany, and many of its residents are foreign nationals. The work was started in 2017, and the Church of the Nazarene officially recognized Luxembourg as its 164th world area in February 2021. We look forward to our arrival, as we begin our language learning and church development with the group already working there in Luxembourg.
We ask that you all continue praying for us during these next steps for arrival to our new country of service, especially as we move through the different requirements for visas and entry into Luxembourg. We look forward to sharing more with you about our new assignment. Also, with this change of regions, our email addresses have changed. Our updated emails are sgonzalez@eurasiaregion.org (Sara) and cgonzalez@eurasiaregion.org (Camilo)."
Continue praying for the Gonzalez Family as they prepare for this new transition and become the first Nazarene missionaries in the newest world area (164th) for the Church of the Nazarene.
INDY DISTRICT 2021 NMI CONVENTION (Click Here Virtual)
Saturday, April 24, 2021
10 AM to Noon EDT
"Just Like a Good Neighbor…"   (Matthew 22:37-39
37 Jesus replied: "'Love the Lord your God with all your heart and with all your soul and with all your mind.'[a] 38 This is the first and greatest commandment. 39 And the second is like it: 'Love your neighbor as yourself.'[b]
Missionaries Josh & Shannon Herndon (Romania), Camilo & Sara Gonzalez (Equatorial Guinea), Dan Duke (Cameroon with Wycliffe Bible Translators), and others will be sharing personal and ministry experiences as they are living out these two Great Commandments from Jesus.  Learn how both global and local missions are effective in ministering to our neighbors – wherever we are in the world.  You are a part of these ministries as you pray and give.  Watch online here for your investment report!  Be inspired and challenged as we learn how to love others more effectively.
A SEASON OF HOPE
The Apostle Paul wrote, "May the God of hope fill you will all joy and peace as you trust in him, so that you may overflow with hope by the power of the Holy Spirit."  Romans 15:13
Will you share this hope that we have in Jesus Christ with others?  During this season when many feel hopeless, share the eternal hope of salvation.  Reach out to your neighbors – next door, down the street, across town and across the world.  Continue to support the World Evangelism Fund through faithful and generous giving.  https://www.nazarene.org/give
SHEPHERD COMMUNITY CENTER
YOU CAN HELP…
If you haven't donated yet, I ask that you would consider doing so. The need is great in our neighborhood. You can make a donation at Shepherd Community Donation page.
If you have things that you think Shepherd might need, please contact Steve DeBuhr or Kolton Williford.
Finally, I ask that you continue to pray for our staff and for our neighbors.
Thank you again for your partnership,
Rev. Jay Height
CRISIS CARE KITS/SCHOOL PAL-PAKS –