NMI LOCAL PRESIDENT'S PACKET
MAKING MISSIONS FUN
District Children's Missions Coordinator, Kay Swesey, leads the children at Southport in making missions fun as they learn, pray and give.  Watch this YouTube video and be inspired with ideas on how to make learning about missions a fun experience as well as one that makes an impact.
2021 FAST FACTS
LINKS
It is our joyful privilege to know, support, love and pray for our missionaries. The missionaries listed below have been adopted by our district.  Every church is "linked" with a specific missionary family.  Use this page to get to know our Links missionaries.  Consider and treat them as family.  Remember their birthdays, anniversaries, holidays, and any other special times God brings them to your heart and mind.  Most importantly, pray for them regularly!
More information is available on the LINKS page.

PHOTOS
LINKS Missionaries Gary & Penney Sidle are new grandparents!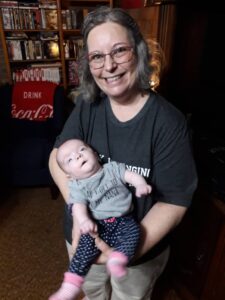 Photos were taken the day they arrived from Zambia and got to hold baby Naomi for the first time!
VIDEO
LINKS Missionary Rev. Gary Sidle (Zambia) has provided a video for use by any local church.  Although his purpose was to provide a Faith Promise resource, the video is appropriate in lieu of a deputation speaker.  To obtain the video, contact Martha Bean.
ADULT MISSION EDUCATION CURRICULUM
Click on the link to access all 12 Adult Mission Education lessons for 2020-2021:  https://nazarene.org/who-we-are/organization/ministries/nazarene-missions-international/curriculum
CRISIS CARE KITS/SCHOOL PAL-PAKS
Shelbyville First Church graciously serves as our district storage facility for CCK's and SPP's. Please call the church (317-398-8966) to schedule your drop-off.  The contents and instructions for both CCK's and SPP's have not changed; the links below are still current.
CRISIS CARE KITS
SCHOOL PAL-PAKS
Shopping Lists:
Crisis Care Kits:
1 bottle shampoo (12-18 oz)
2 bars soap (bath size or larger)
1 toothpaste (4.0-6.4 oz)
3 toothbrushes (in original pkg)
1 box Bandaids (30 or more)

1 fingernail clippers
1 sturdy hair comb
2 hand towels
4 pocket-size pkgs Kleenex
1 Beanie-baby size stuffed toy
School Pal-Paks:
2 composition notebooks (Mead), no larger than 9-3/4 x 7-1/2 inches
1 pkg (10-12) #2 pencils
1 pkg (10-12) ballpoint pens (black ink)
1 pkg (12-15) colored pencils (not markers)

2 pink erasers
2 rulers with metric measurements (6″ or 12″)
1 pair blunt-nosed scissors
1 hand-held pencil sharpener (non-electric, non-battery powered)
Follow instructions explicitly.  It is essential that the exact items requested – no more, no fewer, and no additional items be placed in the bags as requested.  Thanks for providing these practical items for distribution globally through Nazarene Compassionate Ministries.
WORLD MISSION BROADCAST
Not even a global pandemic can stop the Gospel as it is shared through radio, television, podcasts, and other media.  Participate in giving to the WMB offering to ensure that missions receive the message of salvation and hope in Jesus Christ.  If your church does not receive a designated offering, you may give online at www.nazarene.org by clicking on the Give Now tab and scrolling down to WMB.  Stay up to date by liking the World Mission Broadcast page on Facebook.  Download 2020 World Mission Broadcast promotional materials, including the latest video (below).
Click on the link below to download 2020 WMB promotional materials.
https://www.dropbox.com/sh/yi0aqfak8fqbhrm/AADrSmMz-fjZvJr2HJkJSgBsa?dl=0
NAZARENE MISSIONS ROLLOUT
The new Nazarene Missions is a movement of God through the people of God.
For a complete overview, explore the website at http://www.nazarenemissions.org
NEW MEMBERSHIP CLASS
RECOMMENDATION:  With approval of the pastor, the NMI president may give a brief introduction of NMI to prospective members in one session of a membership class.  NMI is an integral part of the Church of the Nazarene, and all members should be informed.  We are a global church and missions is part of our identity and ethos.  The links below are documents that may be helpful in presenting and providing information.
DISTRICT NMI TREASURER
P.O. Box 421848
Indianapolis, IN 46242
DEPUTATION REQUEST FORM
Click Here for Online Deputation Request Form 
NMI Order Form (The Foundry Publishing)
NMI President Annual Report Forms
2020 Report Forms have been revised.  Completed reports are due March 16, 2020.
2020 Local NMI President Report
Local President Report. Page 2
NMI Scholarship Form
Website Resources
*If you need a PDF Reader for your computer, we recommend Foxit Reader